Hoverboard Go Kart Kit - TwoDots Go Kart Attachment for Hoverboards, Self Balancing Scooter Safe for Kids Adults - Overview
The Two Dots go kart kit will turn your hoverboard into a fully-functional go kart for children and adult to ride on, adding tons of fun. Two Dots Hoverboard Go Kart Kit features a handbrake and brake pedal to switch forward and backward. With adjustable frame length and steering wheel, both kids and adult can enjoy the go kart racing experience. The best gift for family members, start a family go-kart race now!
Hoverboard not included
Foldable & Easy Installation
Fits most hoverboards (except Segway Ninebot). The maximum length of the hoverboard attachment is 410mm.
Driving Control System
Seat belt
Shock Absorber with Anti Vibrating Seat
Adjustable frame & steering wheel
Best for kids & Adult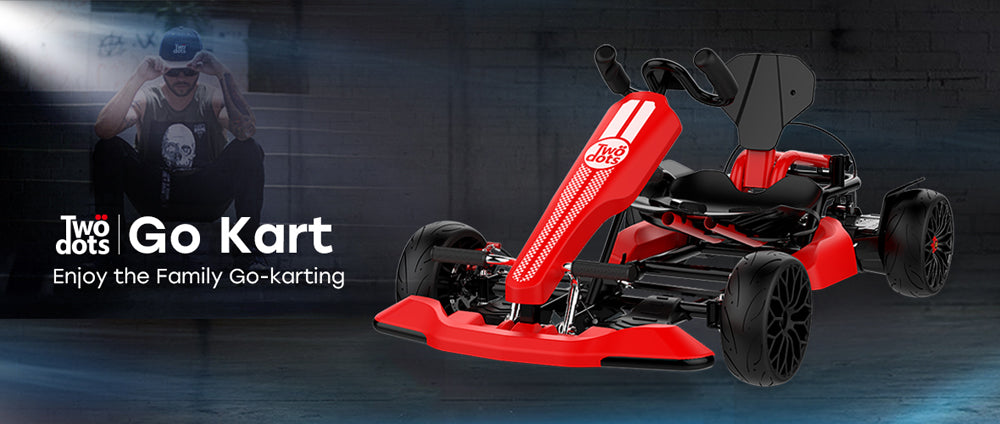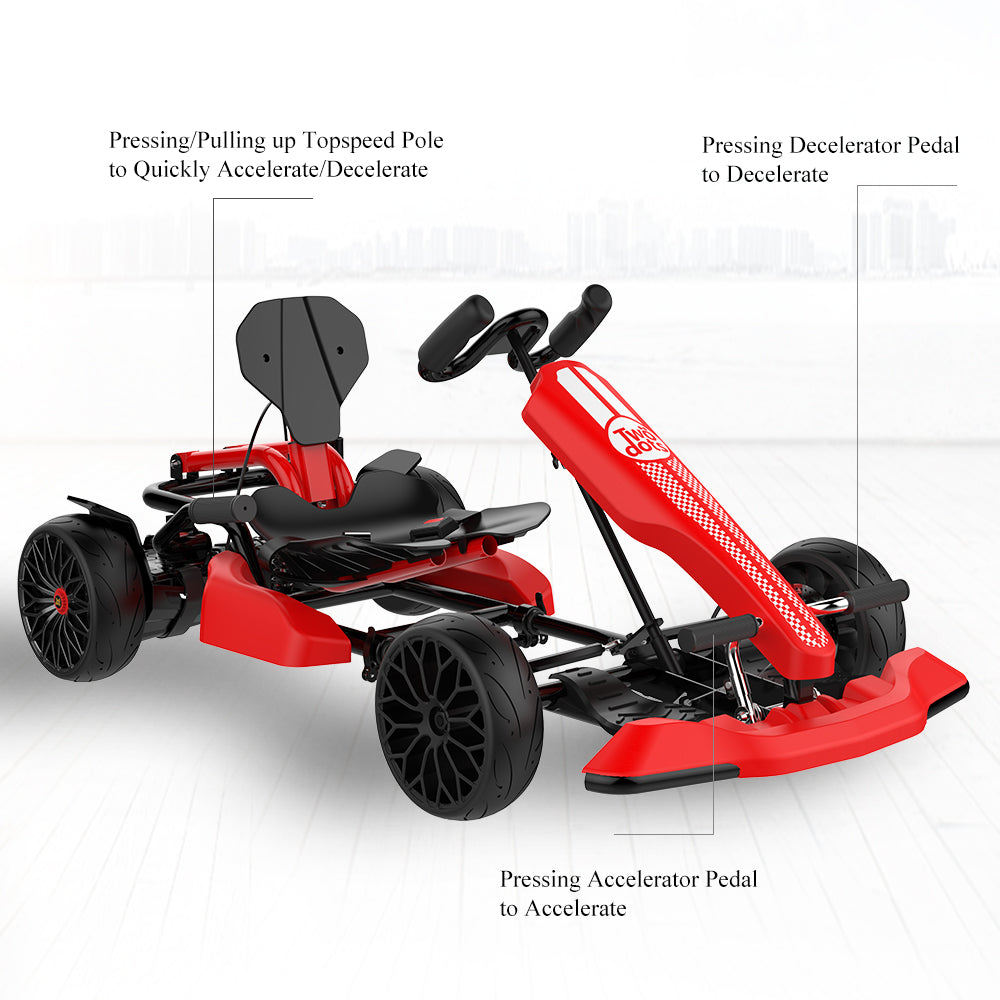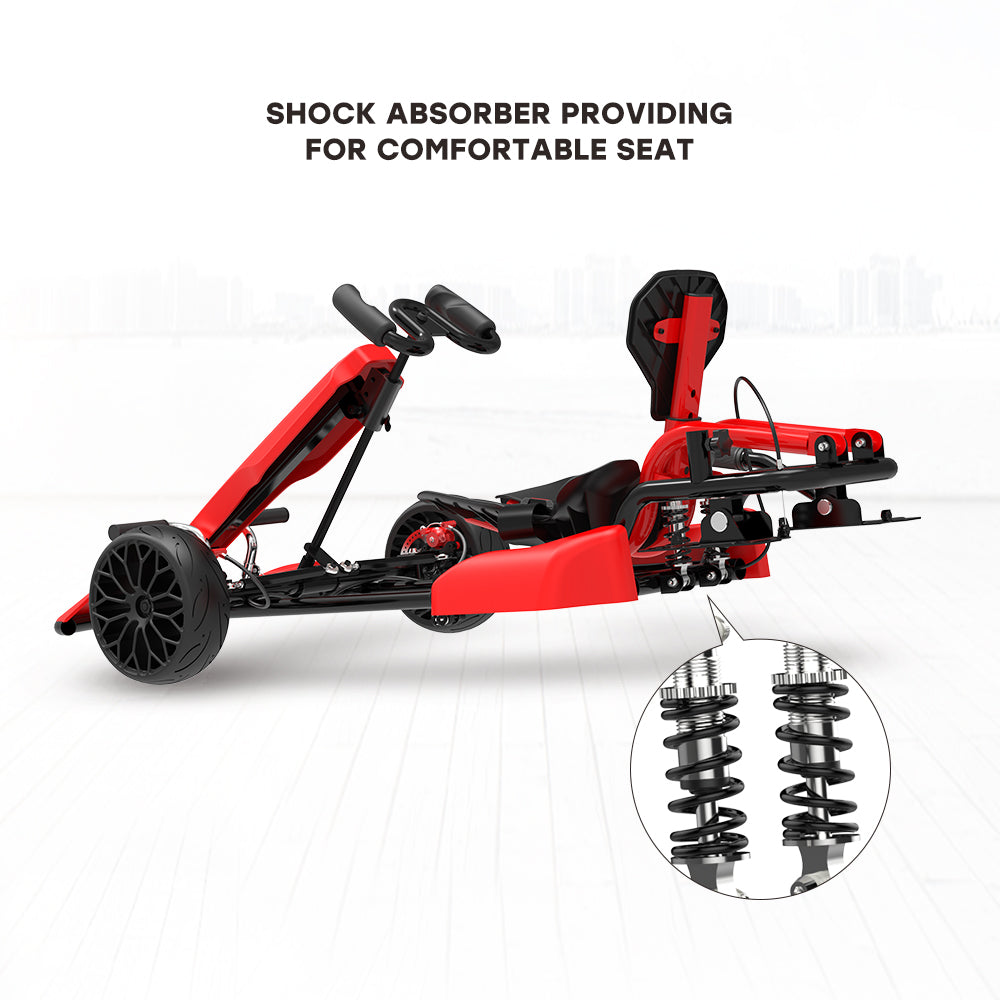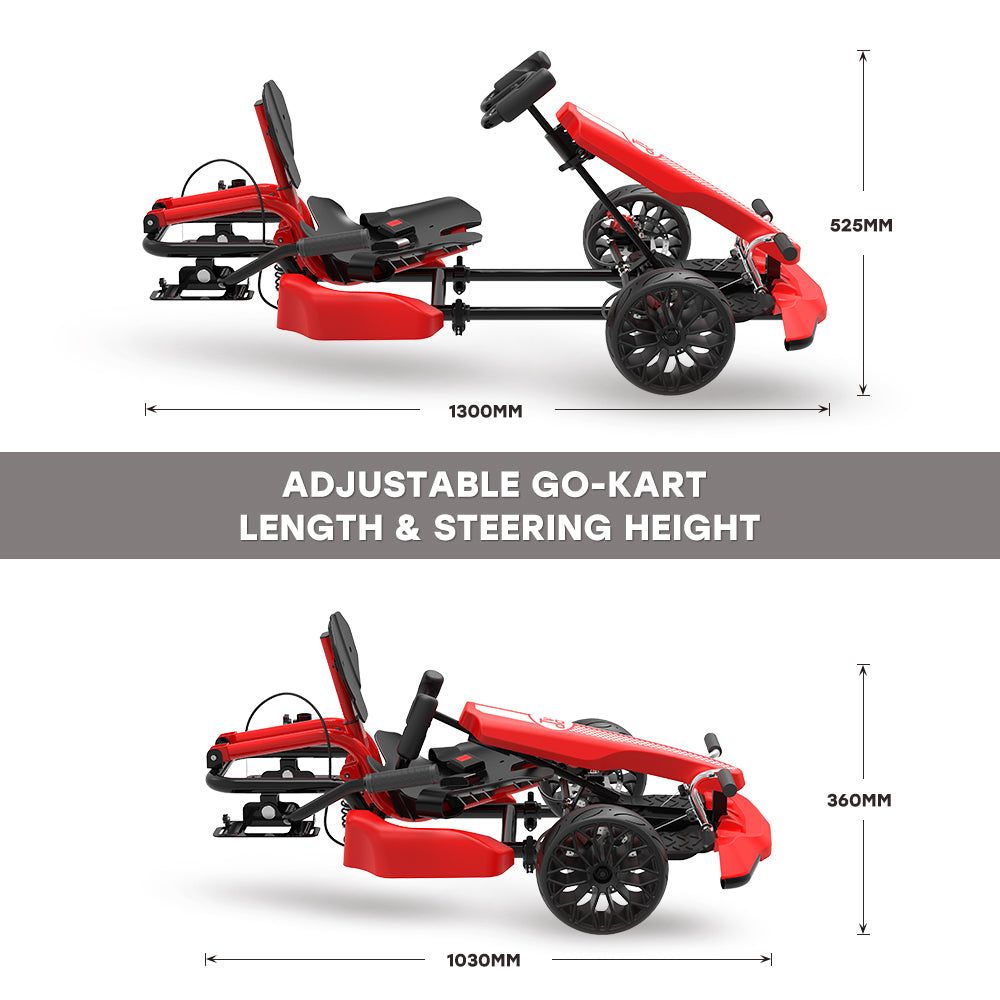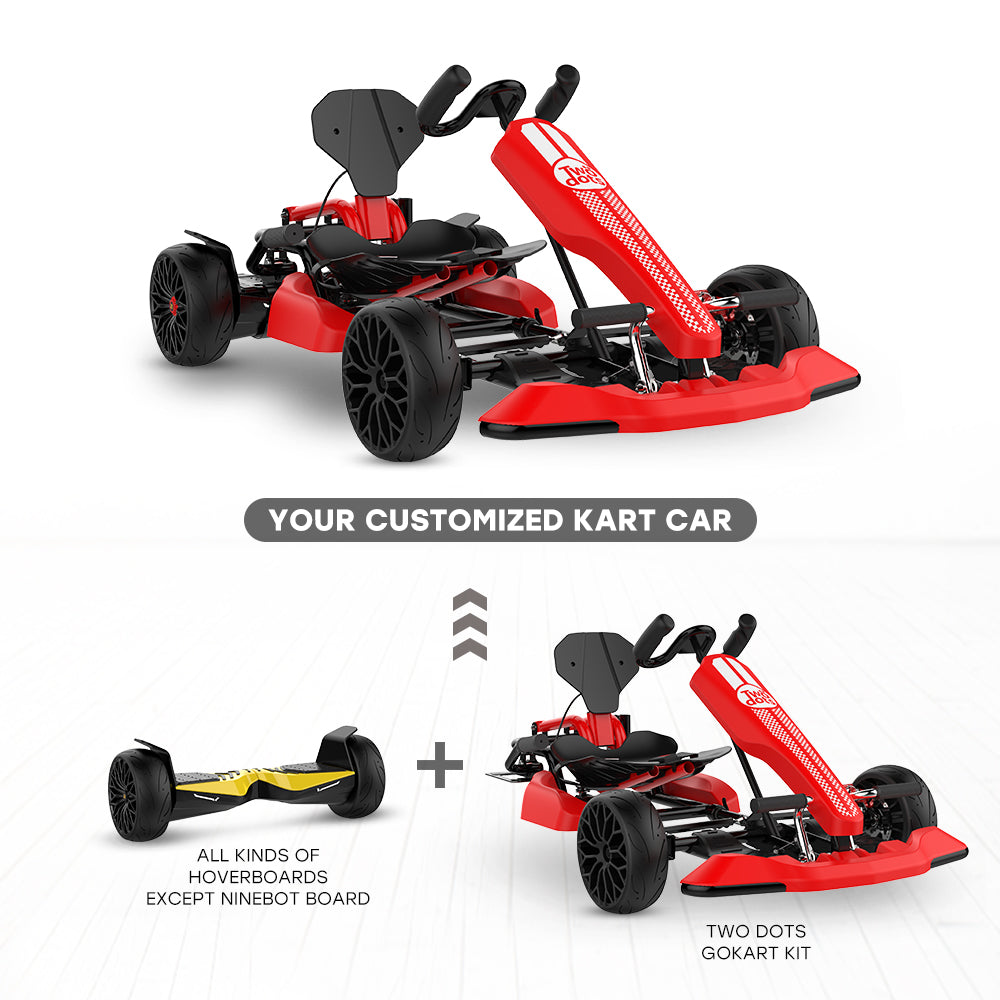 Go Kart Kit Features:
Easy Assembly - Two Dots Go kart kit is very easy to install. Lift up the steering column to proper position, install the steering wheel and seat. Now connect Hoverboard / electric scooter using Velcro strap and make sure the hoverboard on/off buttons are outwards. 
Driving Control System - Rotating handles for directions, accelerate on the right side of leg, brake on the left side of the leg, Handle on the right hand side for reverse.
Smooth and comfortable drive - The pedal go kart kit comes with anti vibrating seat, you can have smooth and comfortable drive. Go kart has a real shock absorber system which can drive it anywhere like indoor and outdoor or on any surface. 
Adjustable length & steering wheel - User can adjust Go kart length up to 1300 mm (130cm) to operate leg control system and for their own comfort leg space. Also can adjust the steering wheel height up to 55cm from the ground as per the requirement. 
Double the Fun - By attaching your hoverboard to the GoKart Kit, you can enjoy a fully-functional GoKart. (The speed of go kart depends on your hoverboard.) With an adjustable frame length, both kids and adults can enjoy the drift experience.
Go kart Kit Specification
Brand
Two Dots
Supported models
Name and model
Fits most hoverboards (except Segway)
Size
Vehicle size
After extension (Max status): 51.2×27.5×19.7 in (1300×700×500 mm);
before extension (Min status): 43×27.5×19.7 in (1100×700×500 mm)
Package size
40.5×28.3×11.4 in (1030×720×290 mm)
Weight
Max payload
198 lbs (90 kg)
Net weight
43.7 lbs (19.8 kg)
Driving
Height requirement
51-79 in (130-200 cm)
Recommended Age
8+ years old
Machine Parameters
Typical Range
depends on hoverboard
Steering ratio
1:1
Ground clearance
1.6 in (40 mm)
Maximum slope
15°
Traversable Terrain
Hardened road, flat road surface, slopes below 15°
Tires
Front tires
Tire width: 3 in (80 mm); ; hub diameter: 8 in (230 mm)
Type
Solid tire
Brake
Braking method
mechanical brake
Braking distance
20 ft (6 m)
colors
optional
red,white,grey
Functions
Shock absorber
Yes
Acceleration
Fast speed up by booster
Package Included: 
Go kart Body
Back Seat
Steering wheel
Helmet
Eyes Safety Glasses
3 Go kart Stickers - Racing Number 24
User Manual